Prague & Dresden
Prague, Czech Republic
Travel & Day 1 in Prague
I've had Prague on my bucket list since college so when a Scott's Cheap Flights deal came up, we jumped on it! We drove from Charleston to Charlotte, North Carolina to get the best deal (CLT -> JFK -> PRG). Neither of us were complaining with the drive due to the price.
Our flight was delayed in Charlotte and then again on JFKs runway which caused an epic Amazing Race style sprint through the airport with 3 other people who were on the same flight. Unfortunately, the gate closed 2 minutes before we arrived. Sweaty and trying to catch our breath, we could still see the plane sitting at the gate. The Delta agent was able to put us on a flight to London and then to Prague which delayed our arrival by 5 hours. The silver lining was meeting Milan, a solo traveler who is from Czech Republic and was going back to visit his sister. His stories of living in the area during the 1970s-1980s were fascinating.
We arrived at 4:30pm local time and quickly moved through customs. We purchased public transit tickets at the airport kiosk. We took the bus from the airport to a metro station and then jumped to a rail car got us to the hotel stop.
Beware fellow Hilton Honors card members, American Express is not very welcome in Prague and many times it wasn't accepted. Look up international fees for a Visa and be prepared to use it when AX is not accepted. We ended up exchanging $20 at the airport to purchase our tickets in local currency.
Still getting our bearings, we ended up walking around the entire city block to find the hotel, all the way dragging our roller bags on cobblestone sidewalks. We finally found the Hilton Old Town hotel which we booked using the points I've racked up from work trips.
We checked in and immediately showered off the dried sweat from our airport sprint. We made our way to dinner at Vkolkovne based on lonely planet recommendation. The exchange rate is excellent for USD so even meals in the tourist areas were still cheap. We drank their light beer, ate venison sausage 3 ways, and traditional fair of beef goulash and pork knuckle.
Day 2 - Saturday
We slept in and ate breakfast at the hotel and walked towards Old Town square where we were just on time to see the astronomical clock. Considering when this was created (1410), it is impressive but not enough to stand around and wait for 40+ minutes.
The river walk provided a good view of the Charles Bridge from the side (1357). We walked through swarms of people to cross it. If you want an easy walk I recommend getting up before sunrise.
After crossing Charles Bridge, we made our way up many stairs to the castle and were just in time for the 12 PM changing of the guard. This impressive choreographed performance is worth a wait! After the guard change, the security gate had a line so long, we decided it was worth walking around the outside to find another entrance. The back side entrance closest to the garden had two different security check points which made entrance to the free portion easy. We walked through the garden and all free portions of the grounds and decided to pass on buying tickets to the church or other exhibits.
It began to sprinkle and we had left rain jackets at the hotel so we headed back across the river and ducked inside a restaurant to grab lunch and a drink. We ended up in the basement of U Pivrnce which is covered with cartoons and crayon signatures of prior visitors. After the previous night's heavy dinner, I opted for a salad and was not disappointed by my decision.
After a quick stop at the hotel to grab a rain coat and directions we headed towards the microbrewery Pivovarsky Dum. This was another Lonely Planet suggestion. After a longer walk and heavier rains than expected, we arrived and were seated in the back. Actual bar seats don't seem to be common. We ordered the 8 beer taster to start.
At the end of our taster, the couple next to us introduced themselves. Both came over for short stays and ended up staying, now about 5 years. After only a few days in the city, I can see how the city pulls you in and makes it difficult to leave. We continued to order beers and talk to our new friends who gave us wonderful recommendations. We ended up staying a lot longer than we expected and were tired and lazy so we ate an unmemorable meal at the hotel.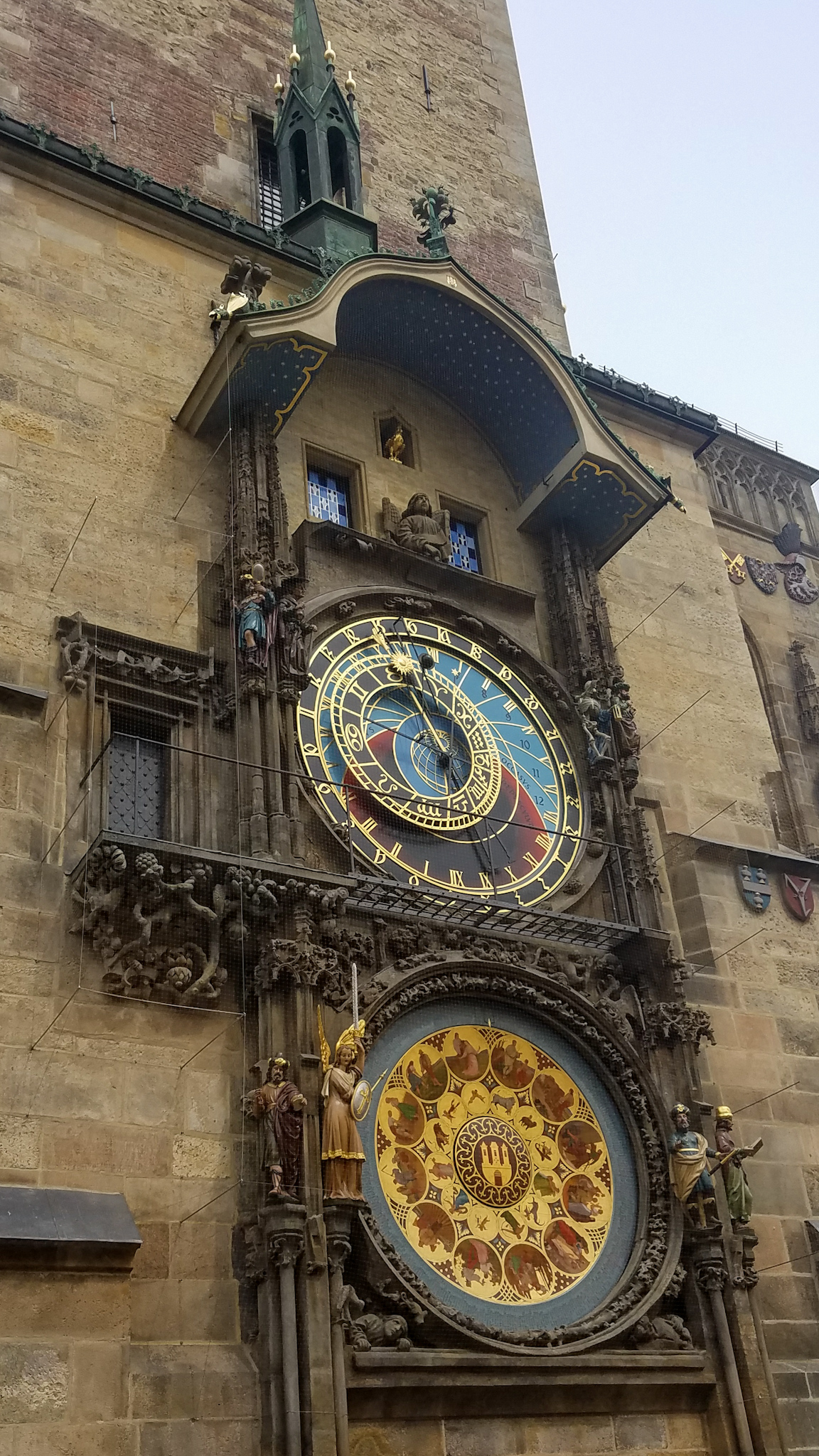 Day 3 - Sunday
Spurred by conversations from the previous night, we started our day at the Senate, which was easily overlooked and was never mentioned when I searched Prague. A beautiful free garden with large hedges, peacocks, and fountains. On its far side, the dripstone wall looms with faces and beasts hidden in the plain sight.
We then continued to walk uphill to the Strahov Monastery. This is one of the oldest monasteries in Czech, founded in the 12th century, and is still home to monks. We arrived as they were closing up for the lunch hour but luckily Sv.Norbert's, a brewery and restaurant was on site. We had a bowl of onion soup to warm up from the unseasonably cool temperatures and a charcuterie board along with our beer.
The Baroque library, opened in 1722, was stunning and well worth the up hill walk. We heard, once inside, that it was possible to go into the library as part of a tour but must be booked in advance and was less than $30 a person. If/when we go back, I'll be doing that tour.
We rode down in a tram and over to Letna Park overlooking the river. A large area for skaters and many paths were available in this shaded area. Our walk through the park ended at a large beer garden.
After a stop back at the hotel to change, we made our way to Tancici Dum (the dancing house), which is on a busy intersection and wasn't as inspiring as I had hoped. Our dinner reservation was still a few hours off, so we walked through a small Botanical Garden and enjoyed pre-dinner drinks at Loki Burgers.
Dinner at U Kroka may have been the best meal of our trip. We started with a cheese and nut plate and of course, beer. Our main course was Svíčková, a traditional dish of boiled beef in cream sauce and dumplings and beef tenderloin steak with potatoes and mushroom ragout. The desserts looked entirely too tempting so we had them wrap up lemon meringue tarts for later. This entire meal, plus beers cost about $55 USD.
Dresden, Germany
Day 4 - Monday
After breakfast, we packed our bags and headed to the train station. The 2 1/2 hour train ride took us right along the river over the boarder to Germany. We spent the extra money to get a reserved seat. In a 6 seat compartment, I felt like I was riding to Hogwarts, complete with the mysterious stranger and candy cart. When we arrived in Dresden, we exchanged a small amount to get enough Euro for a tram ride to our Airbnb. Our studio apartment was as pictured but lacked the little things that could've made it feel like a hotel rather than a glamping experience. We found no central air so the windows had to remain open at night, no real or extra pillows, two twin covers instead of one king blanket, plenty of light and noise from the street and a shower so small anyone of larger size (height or width) could not fit through the door. Lesson learned to review all fine print before booking, instead of focusing on the ideal location next to Frauenkirche.
We found a small market and got a beer and brat for lunch before wandering aimlessly around the nearby area which has become a tradition of ours on day 1 of a new city. We saw the majority of historical areas in this few hour walk, including the Zwinger, Semperoper and Fürstenzug After unsuccessfully locating another currency exchange, we made our way back to the train station to procure additional Euro. Dinner was at Sophienkeller, a basement restaurant with traditional German food. Brandon ordered Hausgemachte Rinderroulade, roulade of beef, served with red cabbage and a king-size potato dumpling covered with breadcrumbs. I opted for Ferkel im Brotteig, a smoked pork chop with sauerkraut, mustard and roasted onions baked in a crispy bread dough, green cabbage salad and marjoram sauce. Both were heavy but delicious.
While it may seem surprising, within the first hour of arriving in Dresden, we knew it wasn't going to be our favorite city. The people were not as friendly and the overall mood of the city was much more serious than what we experienced in Prague. This does not mean we didn't have fun, we just wouldn't go back.
Day 5 - Tuesday
The Grosser Garden Palace looked incredible online so we made our way over first thing in the morning but were disappointed to find it closed. We were still able to walk through part of the impressive gardens. A zoo and botanical garden are also on-site.
Dresden was heavily bombed in the final months of World War II and the city almost leveled. A few buildings were reconstructed somewhat quickly from the rubble but the majority of the buildings have been reconstructed in the modern era. We went walked through the Frauenkirche, the church right by our Airbnb which was reconstructed in the 1990s.
A walk through Brühlschen Garten gave a overlook of the river on the way to the tram. We rode the tram across the river and realized we need a new pass but the kiosk prompted for a pin when we used our Visa (international fees were less than the conversion from USD to Euro). While I never use a credit card pin in the US, it is good to know before you travel abroad. We navigated to Kunsthofpassage where vibrant art covers the buildings. One, shown in the photo below, has a series of pipes that plays music when it rains.
We stopped in at Blumenau café for drinks before going to Little India for dinner. Reservations required due to the popularity and small space. It was a wonderful change from the heavy Bavarian food.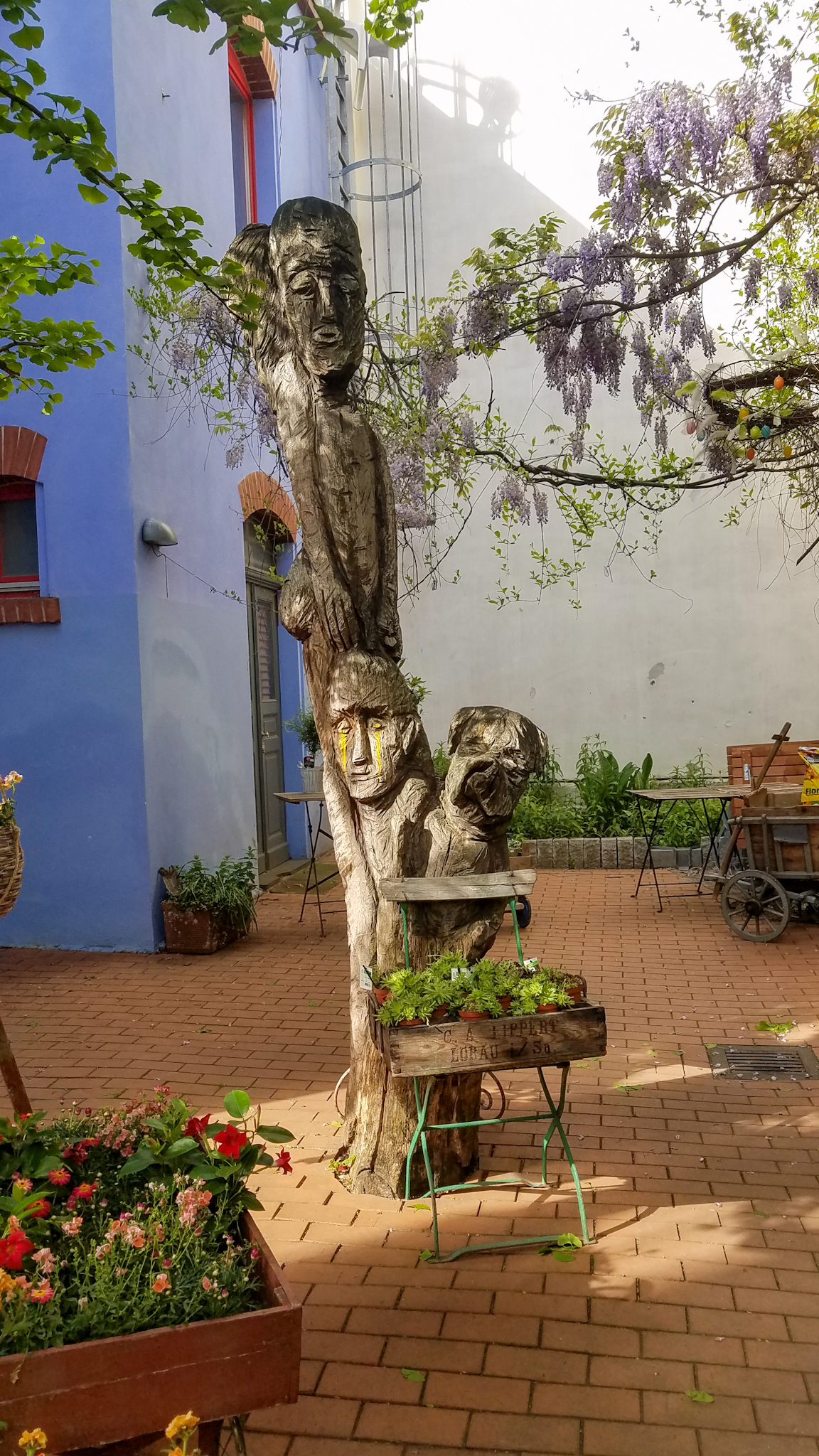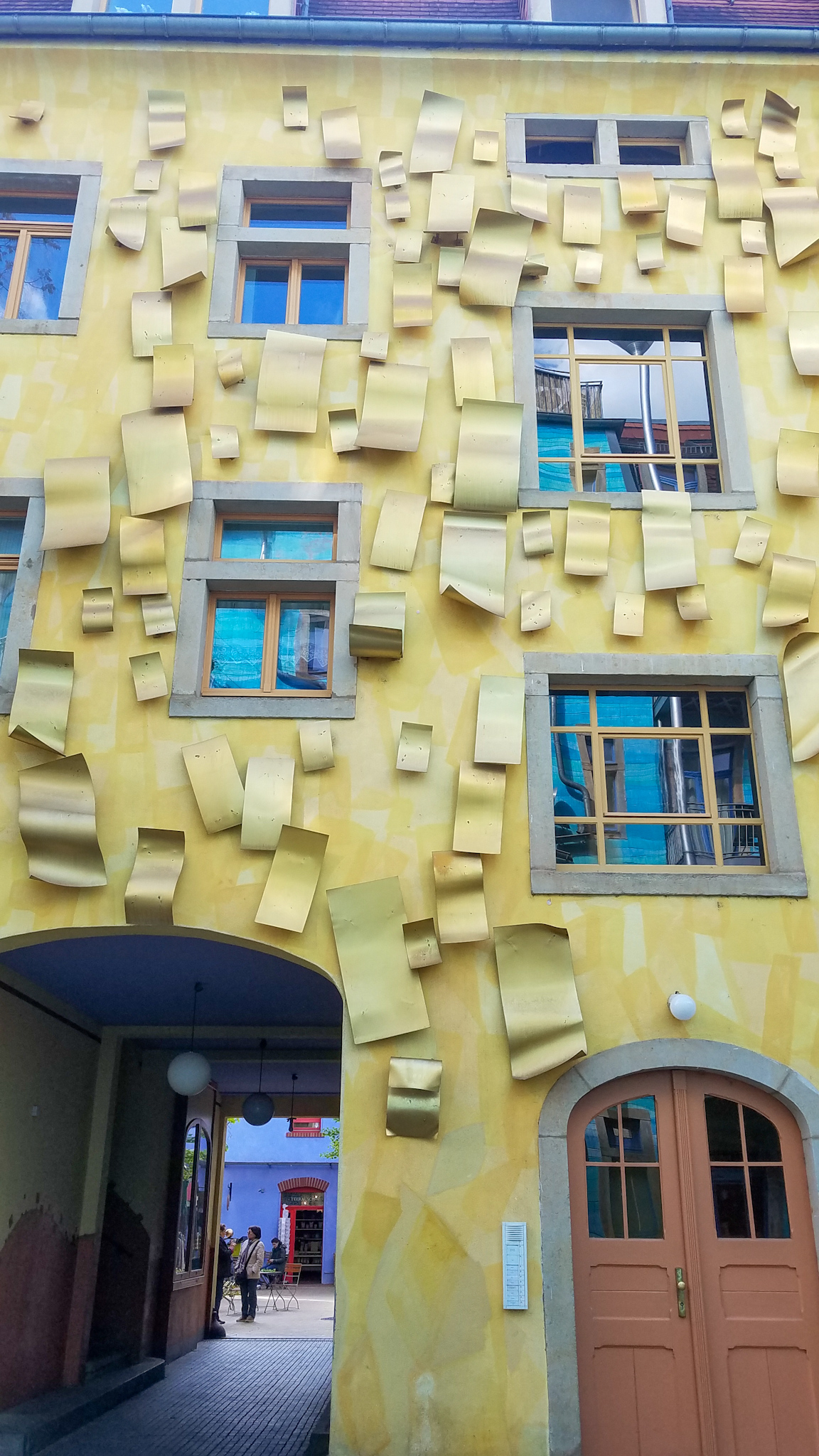 Day 6 - Wednesday
We grabbed breakfast at a local bakery and then took the tram over the river to the Trodel-Ladchen nursery and flea market. A large warehouse had rows of tables lined with boxes of old radios, typewriters, jars, coats, books, and almost anything else you could think of. It was an interesting place if you are looking for a unique souvenir. The exterior had a variety of herbs, vegetables, and plants.
The sun finally came out, a welcome appearance at our early lunch on the backyard patio of Toscana pizzeria. A large arugula salad and some of the best pizza we've had set our day up for success. We took a tram over to ride the Schwebebahn, one of the oldest suspension railway. The top gave a beautiful overlook of the city.
While not big shoppers, we saw a three story sports store and couldn't help but browse. The Decathlon store provides equipment, accessories, and clothing for all variety of sports. The prices were incredibly cheap and we maxed out the space in our suitcases with a few purchases.
Day 7 - Thursday
Our train back to Prague couldn't come soon enough. We got a sandwich to eat while waiting and enjoyed a relaxing ride back across the boarder. When we checked back into our Hilton, we were upgraded to a suite which was a great surprise after the questionable sleep we had in Dresden.
We walk to the Beer Museum, realized it wasn't the one we were looking for, and corrected our direction. The bar, the beer museum, is located near the river and provides around four pages of options. The bartender provided wonderful suggestions.
Based on recommendations from the couple we met on Day 2 we went to U Sumavy for dinner and ordered too much food! Our meal began with pickled cheese, garlic soup, and a traditional dill soup. Our main course was chicken and pork schnitzel with potato salad and a Roast Beef Goulash. This was some of the best potato salad I have ever had and I hope to attempt to recreate the pickled cheese and dill soup soon.
Day 8 - Friday
Our 5th anniversary began with breakfast at the hotel and walked over to the Water Tower Museum. We stumbled upon the tower previously but didn't have time to go in at the time. At each level of the tower, there was an exhibt providing information on the great fires in Prague.
Without much of a plan, we walked towards to center and along the way we walked by the Covent of St Agnes of Bohemia which had a variety of sculptures in their yard.
We walked in the tourist market area and found lunch before weaving our way back towards our hotel. Down a side alley we found a local artist and we made a couple purchases to remember our trip. After dropping off the art, we took a tram over to the Staropramen brewery for a couple beers before changing for our anniversary dinner.
At Augustine, we chose the four course tasting meal which came with a bonus shrimp starter. Bread, shrimp, smoked eel, veal tartar, Beef flap steak, pork loin, avocado cheesecake and Dandelion mousse. Full and tired, we made our way back to the hotel.
Day 9 - Saturday
After sleeping in, we packed up and took the metro to the airport. We met up with our friend Milan in the terminal and travelled back to Charlotte by way of Amsterdam and Atlanta.


Do:
Venture outside the touristy areas and you'll find a treasure trove of food, drinks and local scene with half the cost

Go to the Pivovarsky Dum micro-brewery (even the coffee beer)

Visit the Monastery and the library

Buy the month metro pass if you'll be in Prague for more than 5 days and then sell to a local when you're done (plenty of expat Facebook groups)

Round up the bill to tip. Tipping is not required or expected like in the US. If your bill is 460, tell them 500. Make sure you say the amount you want to pay (including a tip) when they come take your cash or card. When they run your card, there is no tip line so be sure to say in advance.

Use Scott's Cheap Flights to help find a cheap flight. (And if the airline stops your route, i.e. sells off the flight, keep checking because they will likely restore it and you should be able to be moved back without fee)

Contact me with any questions before your trip!

Don't:
Buy 30 min passes for metro (Prague) - its not worth it

Stand around for an hour to see the astronomical clock

Spend more than 2 days in Dresden (Try a city in southern Germany or check out a smaller city in Czech, like Pilsner)